Bali Living: 5 reasons Bali should be on the top of your bucket list
Hi Tribe!
It's Azma – I'm one of the Co-Founders of ADzenTURE.

Those of you that have met me, know that when I'm not on an ADzenTURE, I'm spending most of my time living and basking in nature on the beautiful island of Bali in Indonesia. I fell in love with this island back in 2019 on an ADzenTURE. Having already planted some seeds about potentially relocating from Toronto and saying no to winter (a lifelong motto of mine), when the world shut down due to the pandemic, I got coincidentally "stuck" in Bali waiting for one of our retreats to start. That retreat never started but the timing couldn't have been more divine for me, and now almost 3 years later, I get to call this magical island my home.
Many of you have been asking me about why I chose Bali, so here are 5 of my biggest reasons and favorite parts of the island of Gods.
Their way of life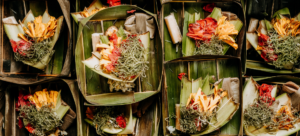 One of the biggest reasons for me to move to Bali was because I resonated and aligned to their way of living! The Balinese believe in a philosophy called Tri Hita Karana, which translates to Three Causes of Happiness from being in harmony with people, harmony with nature, and harmony with God. Their lives are built around these principles and it's evident in how they treat each other, how they pray, and how they interact with nature. Community and family is everything – families typically live next to each other or in the same premises and each neighborhood comes together for ceremonies (whether held for the Gods, purifications, ancestors, celebrations or death) which happen almost every month (if not more often). Every home is built with a temple and temples outside are built in nature, next to large trees, in the jungles, mountains or near a body of water. Every morning, afternoon and evening, you'll find offerings on the streets, in front of businesses and their homes.
People of Bali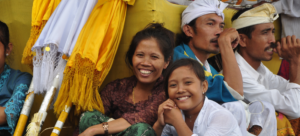 Get to know them because they are some of the kindest and friendliest people on this earth. Always smiling, always willing to lend a helping hand or feed you. I've also never felt more safe in all the places I've traveled to than here, not to mention I've left my key in my scooter many times and it's always been there – instead of luck I'd like to think it's a reflection of the people here (I don't recommend taking that chance of course!). Besides the locals, Bali is also home to thousands of expats from around the world and all walks of life, which makes for a beautiful little melting pot of other cultures to learn about.
Nature is abundant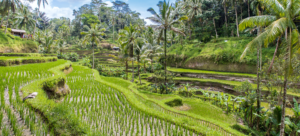 This island has everything from waterfalls, to rice fields, jungles, beaches, and mountains to connect to nature. And while I do live in Canggu (which I like to refer to as a Cosmopolitan village) – being in nature is still only a scooter ride away. If I want to spend time in the jungles, I'll go up to Ubud or further up past the crowds to Munduk or up to the mountains in Kintamani, and if I want beautiful beaches then I'm off to Uluwatu for the day. Sunsets are my favorite time of day (also my favorite color) where you'll see the beach flocked with everyone from tourists, expats and locals with their families.
Foodie haven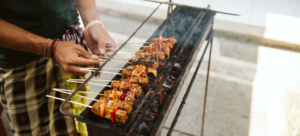 While the foodie in me is very happy, the Libra in me takes forever to choose what to eat because there's such an abundance of dining options! From really yummy and inexpensive traditional foods like Nasi Campur, Nasi Goreng, Ayam Goreng at the warungs (Indonesian name for restaurant) to flavors from around the world and even fine dining. You can find almost any type of cuisine here in Bali. And although Bali is known as a haven for vegans due to the abundance of fresh fruits and vegetables available, it truly has a wide variety with a plethora of restaurants and cafes for everyone.
Culture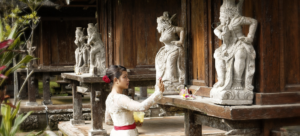 Culture is still very prevalent in Bali, and as mentioned it's seen in their attire, through religious ceremonies, celebrations and holidays. One of my favorite holidays to observe on this island is Nyepi, which is known as silent day. It's the Balinese new year and for 24 hours the entire island shuts down (even the airport) to be at home and observe complete silence. No vehicles on the road, no sounds, no entertainment – a day of self introspection to connect with self and God. The night before Nyepi, each village parades around what they call Ogoh-Ogoh, giant statues intended to chase away evil spirits. It's so beautiful to see the culture preserved and still practiced all over the island.
Mama Bali, as we often say here, is so nourishing and healing for the mind, body and soul. Her energy and spirit is felt throughout the island through its people and the nature. It's a reminder of all the important parts of life, that in a society of "doing" we sometimes lose sight of. It's no wonder that people (myself included) flock here for rest and nourishment.
And so, if you've felt pulled or called to visit Bali, I really recommend that you come with a mindset of a traveler and not a tourist. Take the time to connect with the people and the land to understand their way of living.
With love,
Azma
P.S If you want an insider's guide to Bali (aka mine) – we've got a few spots left on our yoga and surf retreat in May where I'll be taking our tribe to all my favorite spots around the island, so come out and hang! Get all the details here: Bali – May 27 – June 2, 2023